After swim classes on Saturday we went to the Teddy Bear Clinic at Longmont United Hospital. They had a great setup with lots of fun stuff to see and do both inside and outside the hopsital. Each kid got a paper bear to wear around their neck and got the bear stamped at each station they went to - first inside the Pediatric area of the hospital where they got to see how much they weigh and how tall they are, then on to the doctor to diagnose their teddy bear's ailments, then on to surgery where two nice little old ladies stitched up any wounds. That was followed by a quick trip to a real pediatric hospital room to see the bed and/or crib setup, but the focus in that room remained on the brownies and teddy grahams lined up on the bedside table! :) Next we went outside to meet a couple police officers who talked about the importance of bike helmets and then we got to see the inside of an ambulance and a fire truck. We also got our car seats checked out! The highlight of the day for Connor was the ambulance since we've been reading
a book about them
and he now considers himself an expert. He told the paramedic all about it! Our car seats were both installed properly and the guy was happy to see that we still had Logan rear facing :) We also learned more about when Connor should change seats again (when he's over 4 and closer to 40 lbs).

Connor telling the doctor that Curious George has a sore throat

The doctor listened to Curious George's heart and lungs and then gave him a shot followed up by a happy face band-aid. He wasn't quite sure what to do for the sore throat so he wrapped the poor monkey's throat in white tape which Connor accepted as a prefectly fine solution to the problem :) The ladies in surgery didn't know what to do for Curious George so they tied ribbons around each of his arms. These ribbons have fallen off several times over the last 24 hours but Connor insists that we tie them back on so that Curious George will heal properly. He really bought into the whole thing! He fed Curious George lunch right after we got home and then told him to take it easy for the rest of the day :) Too cute!

Here are Connor and Curious George waiting patiently for Logan to be weighed. Logan's official one year appointment isn't until next week but he's about 21 lbs! :)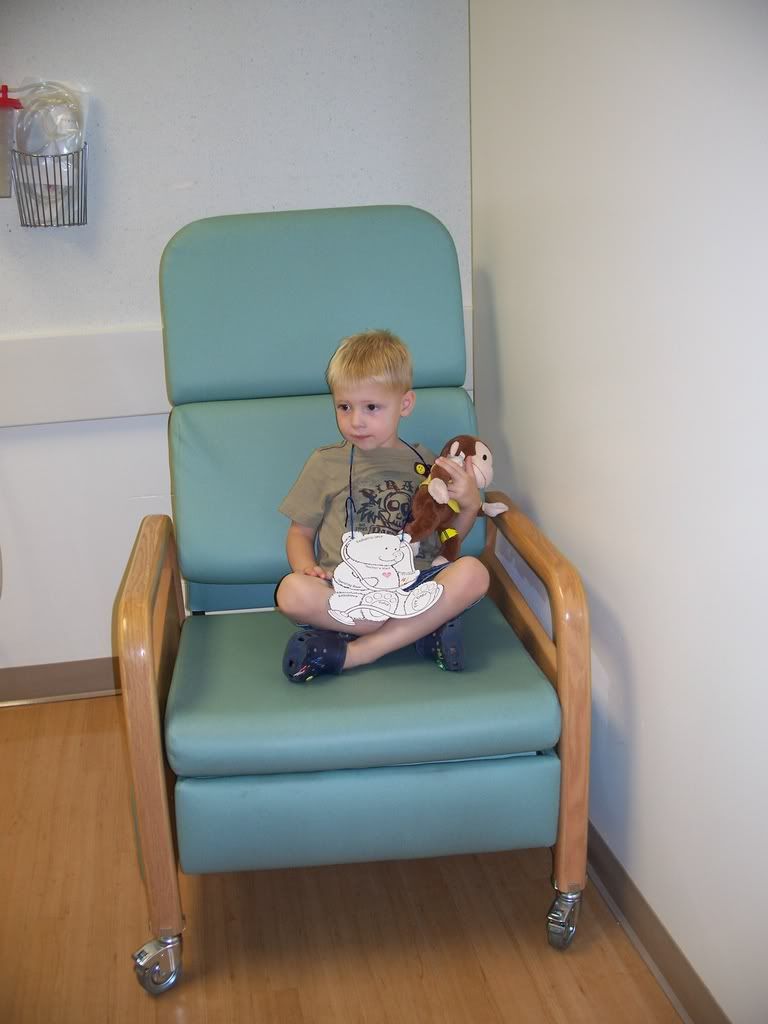 Connor talking to the paramedic in the ambulance



He found money in the fire truck! :)

The whole event was really fun for Connor and we all learned a little something :)
A couple pictures from today...
Logan sitting in Connor's lawn chair - he got up there all by himself!



Laughing in the sandbox