We celebrated Connor's birthday this morning at the
WOW Children's Museum
in Lafayette. There were 11 kids in our party and I think they all had fun! There's so much to do there - a huge Pirate ship to climb on, science, music and art rooms, a stage for dancing, lots of costumes to try on, a train table, sand box, bank, grocery store, bubble machine, wind room, egyptian maze and more! There was definitely something for everyone :) The actual party part started with a craft set up by the museum - the party had a pirate theme so the kids got to make their own eye patches. Well, ok, it was probably a bit over the heads of most of the kids there (it was even hard for the one seven year old guest!) so the parents ended up "helping" a lot. Then it was time for cake, presents and more playing!

Connor wearing his birthday crown while Daddy worked on his eye patch :)



Smiling while we were singing Happy Birthday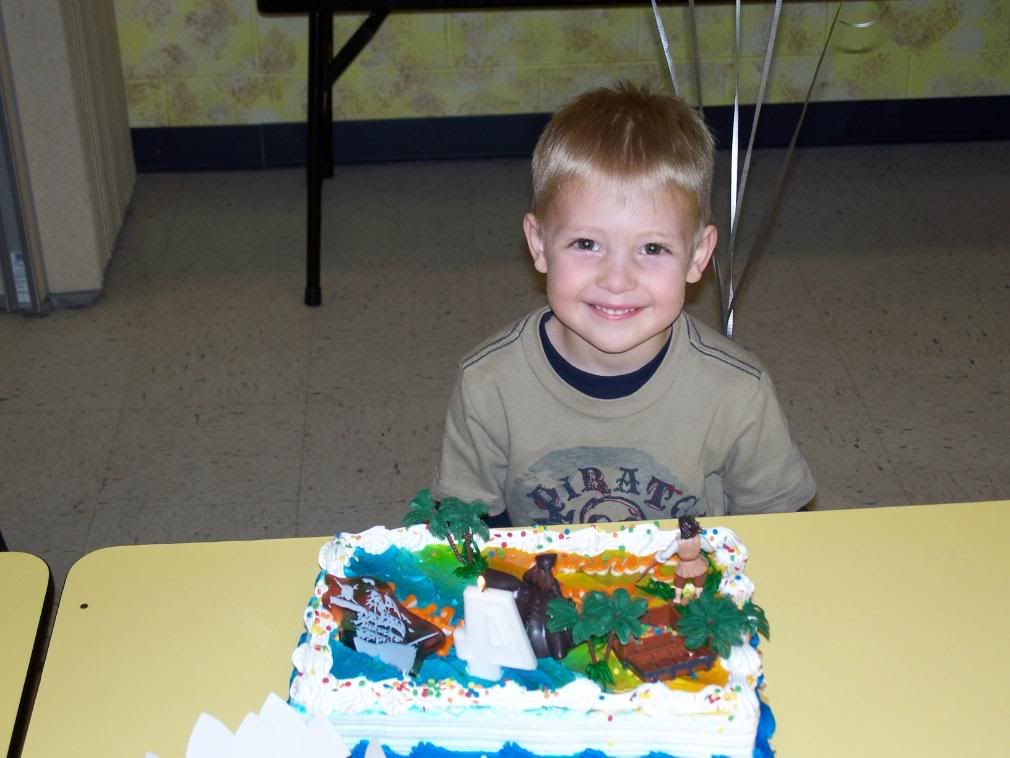 Blowing out the #4 candle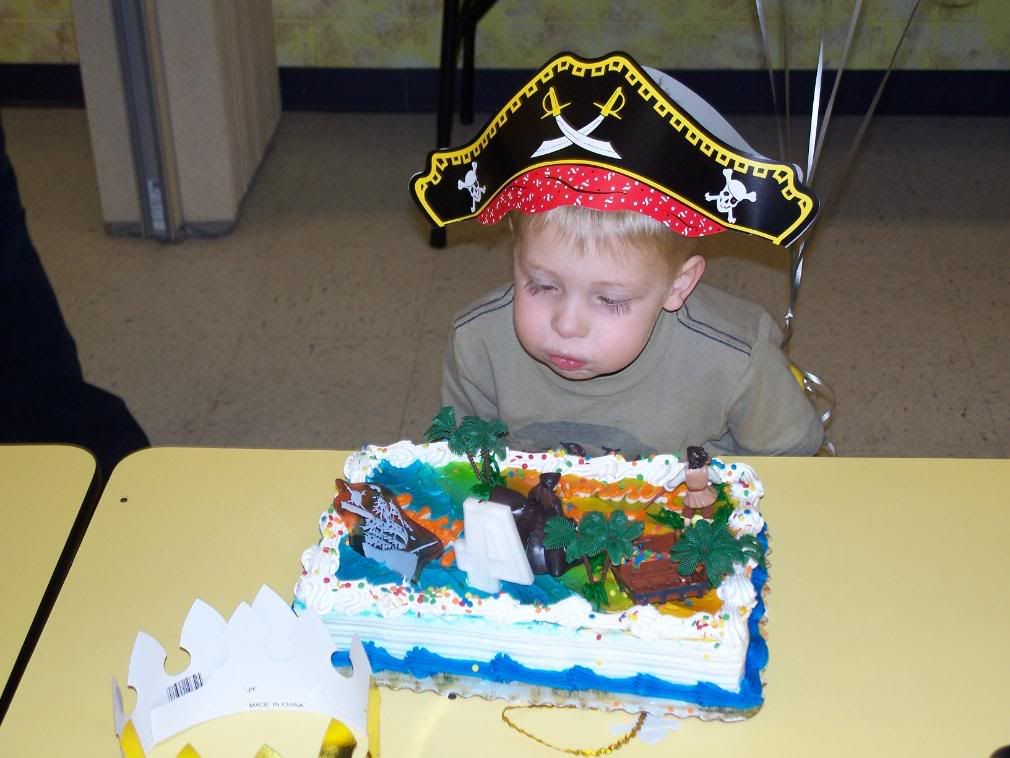 Frosting face!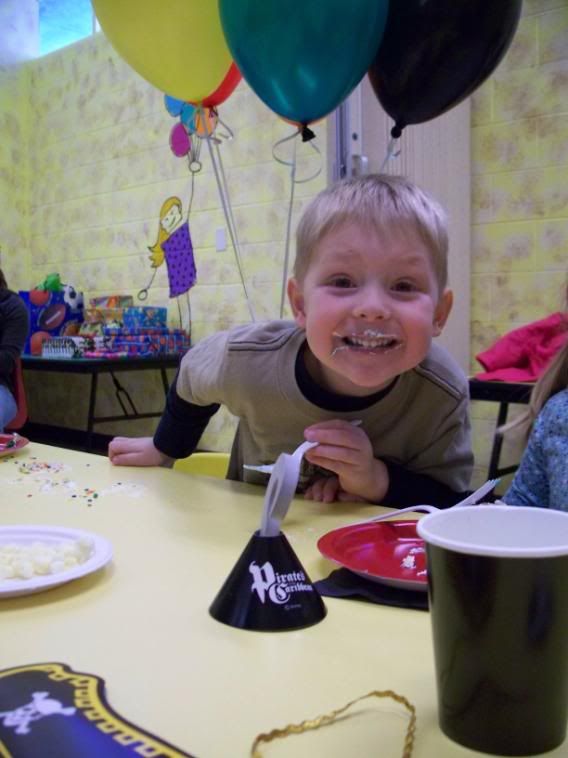 With Rhyann, showing off their colored tongues from the frosting



On top of the pirate ship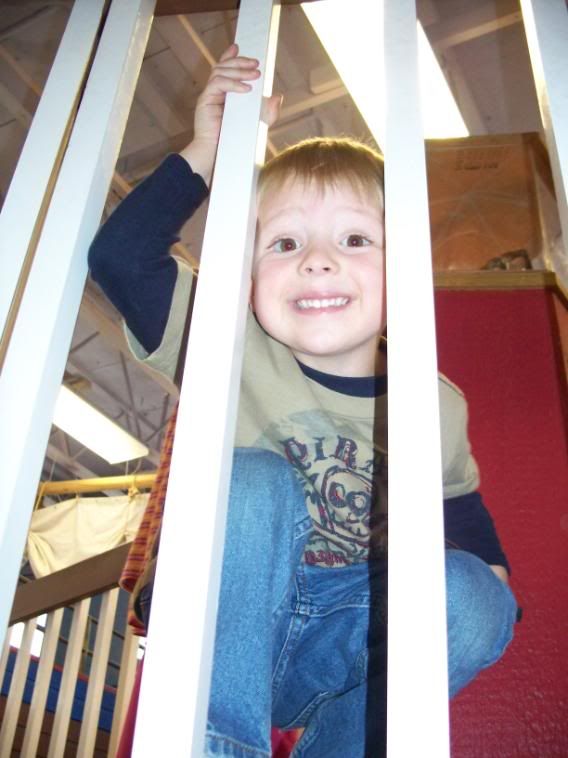 There was no getting a group shot with these kids so this is as close as I got :) Here are six of the party guests!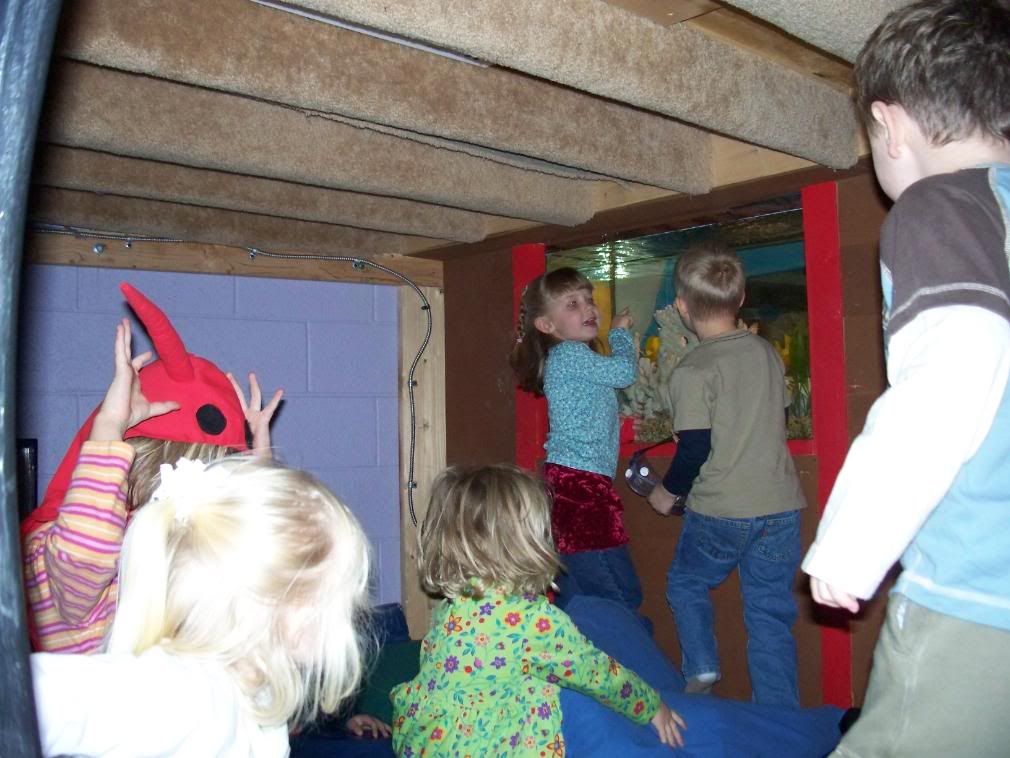 The bubble machine was a huge hit with Connor and Rhyann - they spent quite a bit of time in there trying to get a big bubble to come up around them!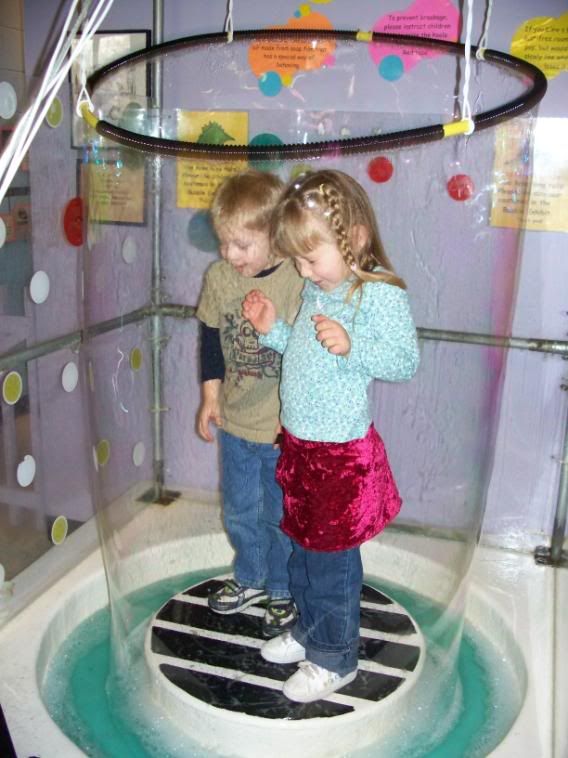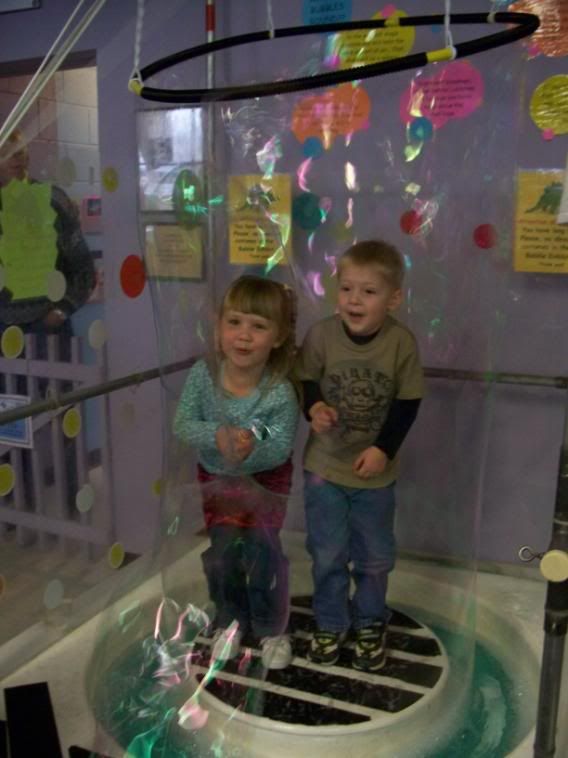 Logan was there too but he spent most of his time either in the jeep or playing with the train table :)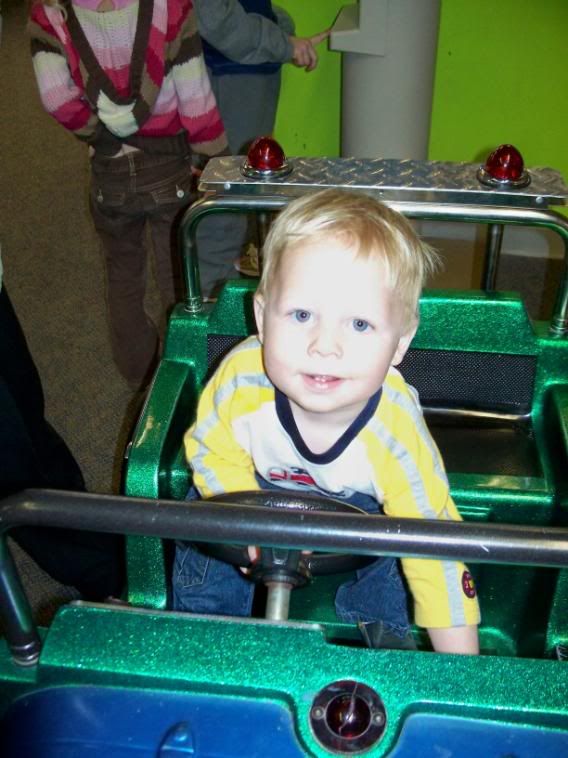 For our first "big" birthday party I'd say it was a great success! Connor had a great time and was really tired afterwards - he napped for over two hours! We haven't been to the WOW museum much since Logan was born but we'll have to go back more often now. Connor and Logan both had so much fun :)
It snowed A LOT today. I think there's about six inches on Connor's picnic table outside but I'll measure it tomorrow. Anyway, even though it was snowing hard and reallllly cold out (19 degrees I think?), Connor and I still wanted to go to the Longmont Holiday Parade and fireworks. We bundled up to brave the weather condidions and roads and I'm so glad we did! We had so much fun watching all the floats and bands. Later we met up with our neighbors and some of their friends and watched the fireworks together from Roosevelt park. It was great!

Waiting for the parade to start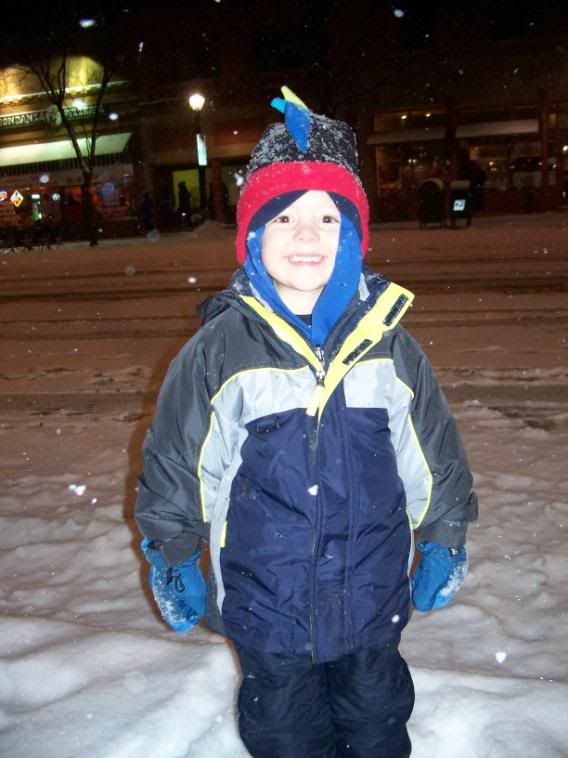 Watching a float go by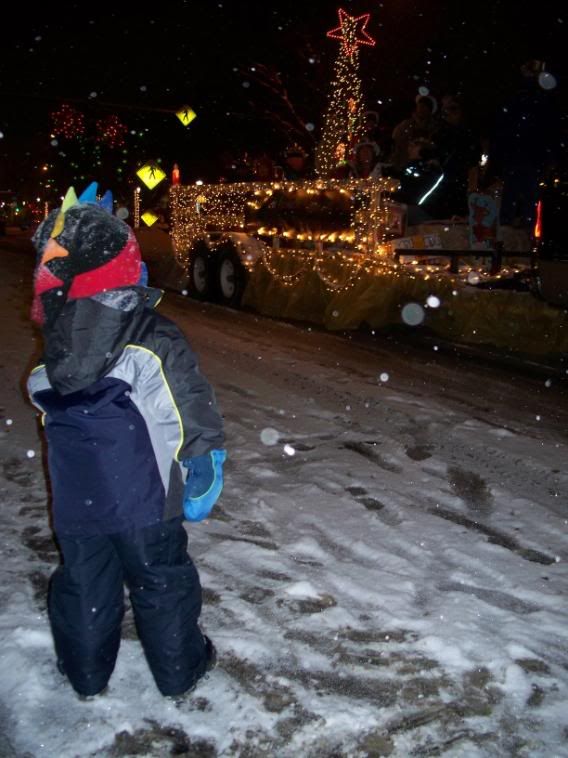 Great smile - this is my favorite picture from the whole day!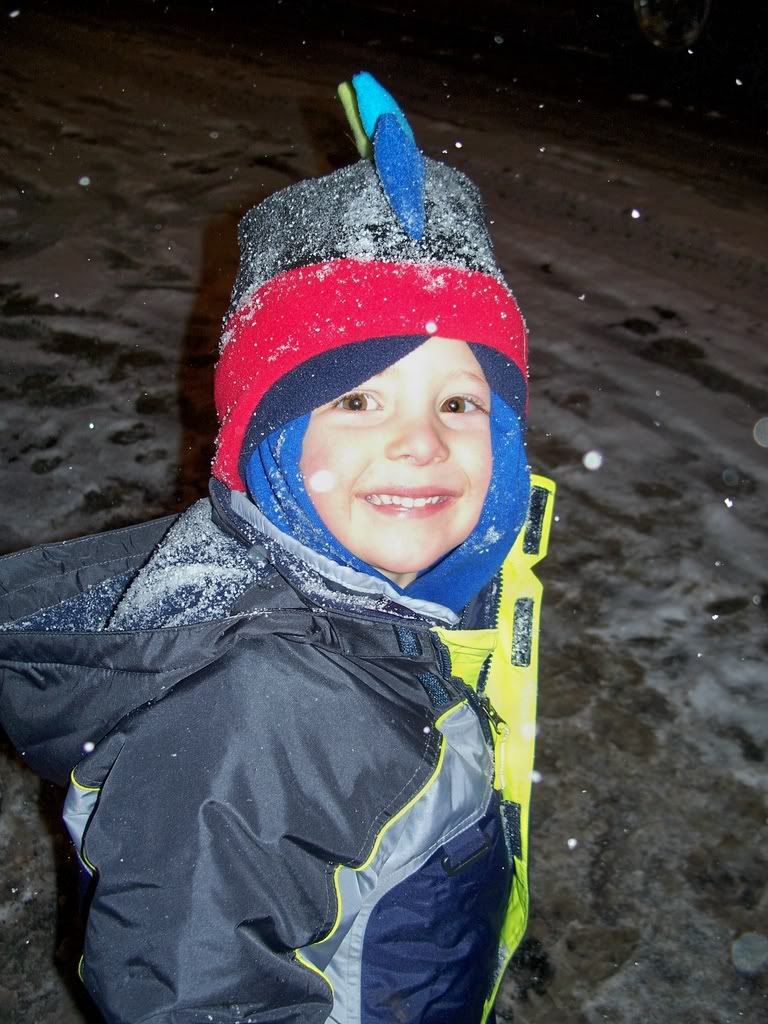 Tree hugger :) I'm not sure why, but he felt the need to hug this decorated tree in Roosevelt Park!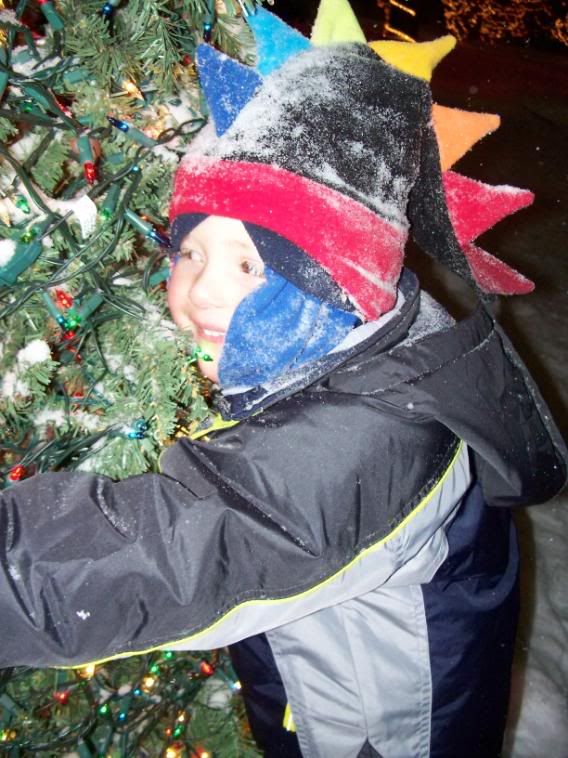 We came home to find Connor's big birthday present from us - while we were gone Jeremy and Logan converted Connor's twin bed into a low loft. I'll have to post pictures tomorrow, but it's only about 4 feet off the ground and provides some fun space below for playing. Connor LOVES it! We purposely bought this brand of bed because it can be converted (fairly cheaply) into so many different options - low loft, high loft, bunk bed, with or without slide, angled or straight ladder, options for underneath a loft like a desk, bookshelves, chalkboard, grocery store, the list is huge! And it's nice that you buy the bed once and then if you want to change it you just buy the things you need - not a whole new bed. Anyway, he was really excited about it even after we told him the rules:
Rule #1: No jumping or bouncing on the bed
Rule #2:
Absolutely
no jumping or bouncing on the bed
Rule #3:
No one
should
ever
jump or bounce on the bed
Rule #4: You have to use the steps to get on and off the bed
Rule #5: Jumping? Bouncing? On the bed?
NO.
:)
He laughed but seemed to get the point. The space underneath makes the idea of three boys sleeping in his room over Christmas not so hard to imagine now! :)
Tomorrow is Connor's actual birthday and, given the weather, I think we're just going to spend the day at home playing with new presents, playing in the snow and having some great chili.