I love fall. I know, I've said that before, but it's just the most perfect time of year. It doesn't hurt that my birthday is in October too (only 10 shopping days remain! haha).
Connor loves his Sunflower Farm class on Thursdays. Last week we arrived to hear news of a brand new colt at the farm! The tiny baby horse was born just hours before we met him and he was so soft! I wonder what he was thinking not only to have just been born but to be pretty immediately surrounded by many preschoolers and mommies oohing and aahing over him :) Connor is now in love with horses! I tried to get a picture of the baby horse but he had to go off for his checkup so I'll try to get one this week. Connor also got to walk through a corn field and brought home the ear of corn he picked! Here are some pictures we took while Connor was showing Logan all the animals after class....

With Shrek the donkey



I forgot to look at this llama's name but he was very photogenic :)



Connor was so protective of Logan - he immediately took Logan away from any animal that came too close for Connor's comfort



Whatcha lookin at?



Several times Logan just stopped and closed his eyes for a second - he was enjoying the beautiful weather as much as we were!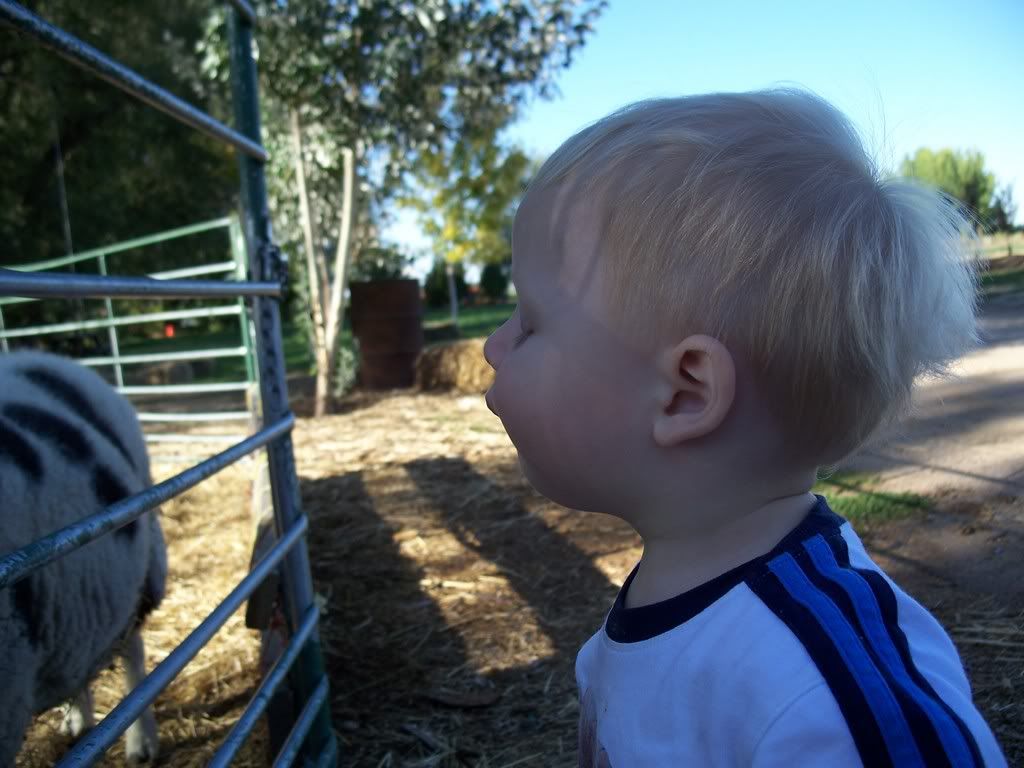 This picture is hilarious. It looks like Logan is thinking "Connor actually likes to have his picture taken like this? These pumpkins are not exactly comfortable!"



They're both looking at the camera at the same time - amazing!



Just playing around with the photo software - ths is the "sunset" setting

I'm sure there will be many more pictures of Connor and Logan with pumpkins in the near future!!!
I went to a women's retreat up in Estes Park this weekend and it was a fantastic example of late September Colorado weather. In 48 hours we had sunny, cloudless skies, fog, mist, rain, several rainbows, sleet, snow, gusty winds, and a beautiful moon. Weekends like that are why they say if you don't like the weather in Colorado, wait 5 minutes! There were elk everywhere and the aspens were gorgeous. Did I mention I love fall? :)