I've been neglecting the blog lately, huh? Amazingly a bunch of you still visit every day hoping I posted! :) Thanks for not giving up on me! We joined the Y a few weeks ago and I guess I've been spending a lot of free time there instead of blogging! Jeremy's enjoying playing racquetball again, I like their water aerobics classes and the track and the boys have fun in the child care. :)
Here are a few pics from my cell phone camera. I'll have some from the regular camera later when I get around to downloading them!

Connor being a good big brother at Noodles and Company



We watched Chance for a few days while his family went on a trip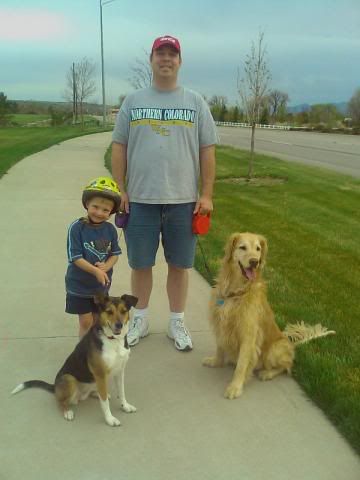 We went to an ENT last Thursday to make sure Logan's ears were ok after many ear infections this winter. Logan's right ear still has lots of fluid in it even though he hasn't had a cold for quite some time. That, combined with his speech delay, leads the ENT to want to put tubes in. He left it up to us and is fine with waiting a month and seeing how Logan's speech progresses and how the ears look but he's guessing that we'll do the tubes before the summer's done. Sigh. Logan's speech therapist has seen good results in kids who get tubes so she's in favor of it. And Jeremy had many sets of tubes as a kid so he's ok with it too. I'm stuck in the "why do both my babies have to go under general anesthesia so young? It's so unfair!" phase. I've been reassured that he'd only be under for five or ten minutes but still, he's my baby! :) Anyway, we'll keep you posted.
Next week is the last week of preschool for this school year! The boys will go to the same "summer camp" two mornings a week and Connor will also go to farm school one morning. Then in the fall both boys will be at the same school together (Logan for two mornings, Connor for four). Connor's class is going on a field trip on Friday to Dairy Queen :) It's within walking distance of the school and he is very excited to eat ice cream with his class before lunch!!